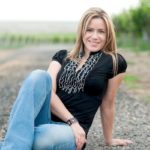 During the school year, Gabby Diaz (my amazing wife) is an Administrative Secretary in Washington State's largest public high school – Chiawana High School in Pasco, WA.  As soon as that bell rings, she is following her passion for photography.  Gabby owns and operates "Moments Photography by Gabriela" where she thrives on capturing life's moments, one click at a time.  From gorgeous sunsets and awe-inspiring landscapes to cap & gown and senior portraits, Gabby's portfolio is a compendium of beautiful moments.  She demonstrates unparalleled creativity and vision that brings a level of excitement and energy to her photo shoots that truly motivate and inspire those around her.
From a very young age, Gabby loved photography.  From her "flip-phone" camera and her first 35mm Minolta film-camera to her Nikon D810 and D850 DSLR cameras, her passion for taking photos continues to grow.  Gabby is 100% self-taught and continues to learn and hone her technical skills in shooting, editing and understanding the vast array of functions and capabilities her cameras, lenses, and filters provide.  In the Fall of 2018, Gabby won a local photo competition for landing the cover of the 2018-2019 Tri-Cities/Mid-Columbia telephone directory with a black and white photo of a bald eagle perched in a tree.
Gabby's number one love is landscape and nature photography.  She loves traveling, exploring and discovering all this earth has to offer, and she fully intends to capture these moments for all to enjoy!
If you are interested in learning more about Gabby's photography or if you'd like to schedule a photo opportunity with her, feel free to contact her via email, Facebook or Instagram.